Computer Cleaning
Puur helps you minimize bacterial and viral contamination in the office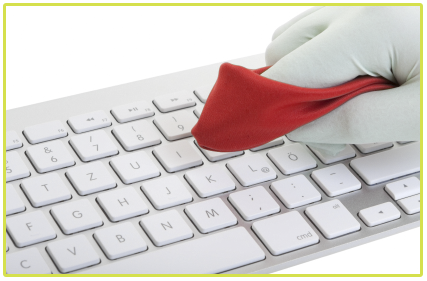 Because of our "hands on" use of computers and telephones* they can easily the most contaminated part of the office environment.
Our biodegradable, germicidal and non-toxic cleaning solutions keep components in good condition and looking and feeling like new. It can also extend the working life of components by, for example, removing dust and dirt that clogs up hard drive cooling fans causing overheating and debris that jam keys on computer keyboards.
PLUS our crews clean all accessible connecting cables at no additional charge.
We offer this service on an ad hoc basis or it can be included as part of a regular cleaning contract. Telephone sanitization is automatically included as part of our office cleaning service.
For a company who want to be truly environmentally friendly, computer cleaning will come high on the list of green cleaning priorities.